Global Temps Continue To Rise
We just broke the record for the hottest year, nine straight times.
June 2015 through May 2016 was the hottest 12-month period on record. That was also true of May 2015 through April 2016, and the 12 months ending in March 2016. In fact, it's true for every 12 months going all the way back to the period ending in September 2015, according to

global surface temperature

data compiled by Kevin Cowtan and Robert Way. We just set the record for hottest year in each of the past 9 months.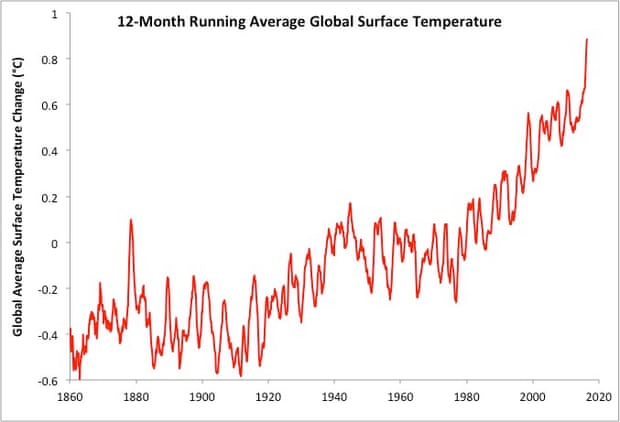 Running 12-month average

global surface temperature

using data compiled by Kevin Cowtan and Robert Way. Illustration: Dana Nuccitelli
The impact of the El Nino is evident for 2015, but note that this is on top of a clear rising trend. Compare 2015 with the the 1998 El Nino. Both of them spike above the trend, but the trend in 2015 is significantly higher than the trend in 1998. This will clearly continue. The next El Nino will produce global temps that no global warming denier will be able to ignore.